Mariella Riley
Birth name
Mariella Camila Lucato
Born
June 22, 1987 (age 27)
Rome, Italy
Occupation
Bodybuilder, model
Years active
2008–present
Mariella Camila Riley (née Lucato) (born June 22, 1987) is an Italian born bodybuilder and model.
In 2008 she was part of the Hardfitness Calendar and in 2009, Lucato appeared in Flex Magazine. Mariella also occasionally works for Hardbody.com, contributing with interviews, photo ops and blogs.
Early life
Edit
Mariella was born in Rome, Italy where she was raised. In her junior year of high school, she was destined to become a member of Italy's women's national soccer team. But she gave it up for personal reasons and nagging injuries.
Bodybuilding & Modeling (2008-2013)
Edit
After high school, Lucato got into body building, quickly rising up the ranks and competing in world wide competitions. She had gotten into body building because of an ex-boyfriend. She also dabbled lightly in modeling before becoming a mother.
Wrestling (2014-present)
Edit
On September 6. 2014, Lucato signed a contract with World Elite Wrestling to become the personal assistant of her husband Riley Daniels who had just became the new assistant general manager of their Adrenaline brand.
Personal Life
Edit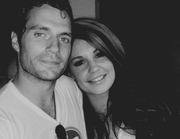 Lucato has one older brother.
Riley Daniels (HS; 2012-present)
Edit
Lucato is married to retired professional wrestler Riley Daniels.
Lucato met Riley at a study abroad trip in Italy during his junior year in high school. The two immediately hit it off and began dating during his time there. The relationship ended when he had to return to the US. In mid-July 2012 the two became engaged after re-connecting and planned an October wedding. However they called off their engagement in August. The day after the supposed wedding date (10/15/12) Daniel showed up at her home in Rome, Italy. The two reconciled after he found out that she was pregnant with their child and he proposed to her again, which she accepted. The two would wed in March 2013 at Lanikuhonua Cultural Institute in Kapolei, Hawaii when Mariella was 7 months pregnant. In 5/4/13, Mariella gave birth to an 8 lbs baby boy they named Luca Daniel Riley. In December 2013 Riley announced on Twitter that him and his wife were expecting their second child due. The couple welcomed Noëlle Willow Riley on 4/20/14 who weighted in at 10 lbs. In November 2014, Mariella and reveled to her husband via Twitterthat she was pregnant with their third child. The baby, a girl they're naming Sofia Violet, is due in mid-2015. On April 20, 2015, Mariella gave birth to their third child, a girl.
The family resides in Toronto, Canada during the Summer and in Miami, Florida during the Winter.
External links
Edit